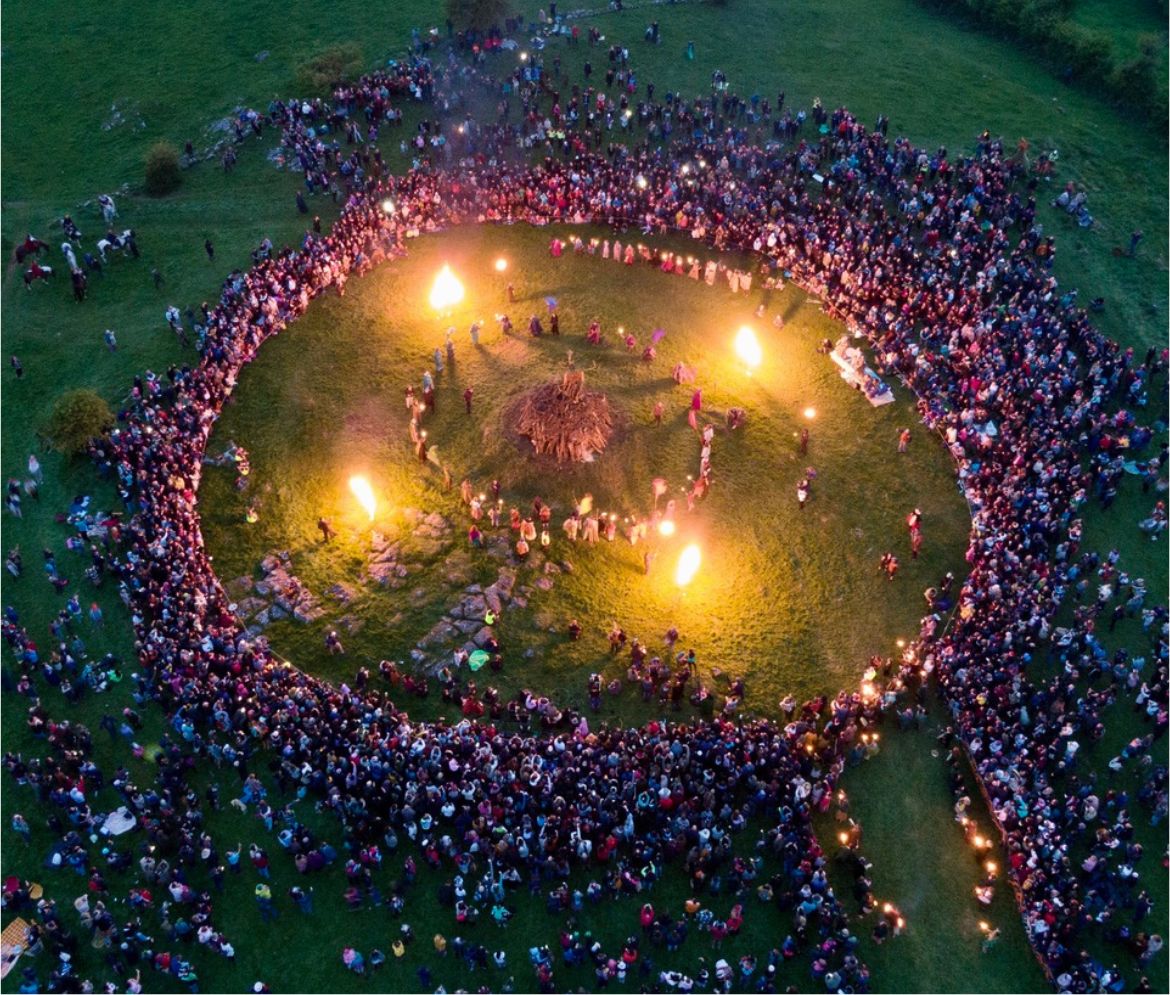 Bealtaine Fire Festival 2023
We are SOLD OUT for Bealtaine Fire Festival '23 !!
As we move closer to embracing and welcoming-in the Summer with our family and friends, the excitement is growing here with the team in full swing now !
We are so looking forward to welcoming everyone back to celebrate and share the Hill with us !
In the event that we have some ticket cancellations and if you have not yet got your ticket – please send in your details: name, phone number and number of tickets to:
[email protected]
and we will put you on a waiting list.
Three weeks out All, three weeks out ! 🔥
_ _ _ _ _ _ _ _ _ _ _ _ _ _ _ _ _ _ _ _ _ _ _ _ _ _
We are delighted to bring the news to you that Bealtaine 2023 is when we will all meet again on this Sacred Landscape in the Heart of Ireland. We will join together to celebrate the coming of Summer, here on the Hill of Uisneach !
The lighting of the Bealtaine Fire on the Hill of Uisneach is one of Ireland's oldest traditions.
In ancient times, a great assembly would gather on the Hill to witness the fire being lit by the High King of Ireland. The Bealtaine Fire is traditionally seen as marking the arrival of Summer in Ireland. In recent years, this tradition has been revived to become one of the key events in the Irish cultural calendar and a great family and community event.
We will enjoy all kinds of music, art installations, craft & traditional workshops, stalls, talks and demonstrations, games for children (and the big kids too !), yoga, healing & mindfulness sessions amongst many other offerings and the evening culminating as the sun sets, with the lighting of the Great Bealtaine Fire !
Join us for a very special and memorable day on Bealtaine, celebrating Irish heritage, at its very best and let's all continue to make special memories at the Sacred Centre of Ireland – the Hill of Uisneach.
Production is well underway now and we are very excited to be able to welcome you all once again next year. . . To what promises to be another great festival !
When: Saturday, 6th May 2023.
Time: 16:30 – 23:30
Where: Hill of Uisneach
Ticket Prices:
Adult: (Aged 16 +) €40
Family: (2 Adults + 2 Children under 16 yrs) €90
Extra Children: (Under 16 yrs) €10 Babes-in-arms: Free
Public Parking Available Adjacent to Site.
Disability Parking onsite available – please request when booking.
Onsite bus available.
Entrance gates OPEN at 15:00 and Entrance gates will CLOSE at 20:00 SHARP
As we are part of a busy working farm, no pets allowed onsite, either on or off a leash. We thank you for understanding.